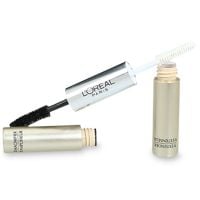 Great idea

This is a great idea, but I didn't like the feel of the tubes on my lashes. The product did hold up to its promises, however, so you are getting a good product. It just wasn't for me.

L'Oreal Paris Double Extend Mascara

I really wanted to like this mascara, I have used other lengthening primers, but this one was really goopy and clumpy so the mascara didn't really apply well either. I tried using just the mascara, but it wasn't as good as some other mascara formulations that L'Oreal produces. I found it to be a very short lived mascara as well, it flaked and smeared quite shortly after application. L'Oreal makes some really good products, this isn't one of them.

Can be good if used properly

This primer/ mascara duo can work well if you apply it right, meaning applying it quickly. I find that if you don't apply the mascara on top of the primer quickly, the result will be spotty coverage with bits of white sticking through & a rather clumpy look - not pretty. If you apply it quickly, you can easily cover the white & ensure a clump-less look. You also need to make sure that you apply en...read moreough of the color over the white to make sure you don't end up looking like you have grey lashes. The results can be quite lovely with thick, long lashes, but I just don't bother. Frankly, L'Oreal has better mascara formulas & I much prefer a clear lash primer to a white one.
Back
to top