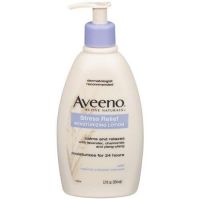 Very pleasant scent, fast absorbing, calming...

This, together with their "Moisturizing Oil" is one of my favourite body lotions of all times… My skin tends to be very dry and itchy in the winter and I need something that will moisturize it, as well as calm it down if it's gotten to the point of being irritated by my scratching it uncontrollably… So for this particular purpose, this lotion really does wonders… I love the way it ...read moresmells, and I love knowing that it has chamomile, lavender and ylang-ylang oils which are all known for their soothing and relaxing properties… This lotion absorbs into my skin almost immediately after I put it on… I usually use right after taking my shower, and I find that it lasts all day… I can still feel it on my skin before going into the shower at night, and my skin is considerably less itchy… I also love the fact that it's completely non-greasy and doesn't leave any kind of sheen on your skin or anything like that… If that's the look you are going for than the "Moisturizing Oil" (the pink capped bottle) which I also love, is very good for that… If I were to come up with a "con" for this product, the only thing I can think of is that with this lotion, it is actually possible to use too much of it. I wouldn't recommend reapplying it after you've already applied it… I had once put too much of it on and ended up with a sort of waxy residue on my skin. I don't really know how to explain it properly, but it's the kind of residue you notice when you rub your fingers on your skin and realize that you are getting tiny little waxy kind of balls all over your fingers, so use it moderately… ;)

soothing

I love using this at night after my shower. It is fast absorbing and has a calming scent. It is moisturizing and I find my skin super soft in the morning! It is the only thing I use when my skin breaks out in irritation.

:)

it's the best product ever. it smells really nice and leaves my skin soft for hours.
Back
to top