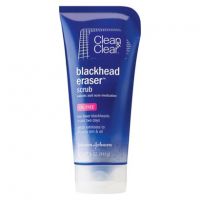 gets rid of blackheads AND acne

i used the product for blackheads on my nose. it got rid of them in a matter of 2 or 3 days. besides that i was amazed that it also erased the acne i had on my cheeks. i have combo skin, and it worked really well for me.

Waxy feeling

My problem with this scrub was not about their inability to clear or reduce my blackheads, but about my skin feeling not very clean after exfoliating with this. It smelled clean, their blue microbeads were gentle, it did not dry out my skin, but it left some waxy residue on my skin. If it was not for residue, I would have continued using it as a daily scrub, but I was afraid that this was going to clog my pores so I did not finish a whole tube.

Blackhead clearing?

Johnson & Johnson's Clean & Clear does not clear blackheads. My blackheads remained. Talk about false advertising.
Back
to top