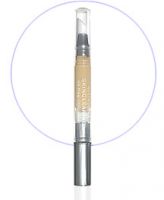 Editor's Rating & Review
We love the idea of an acne-fighting concealer, but with only .5 percent salicylic acid, the "treatment" is minimal. The sheer product takes several layers to develop sufficient coverage. Yet the directions recommend only applying once daily in the beginning, because it can be drying. More minuses: It takes a few clicks of the applicator to get the product to surface on the sponge, but then it oozes out in one big dollop, so there is a high degree of waste.
Reviewed by the Total Beauty editorial team on 09/25/2007

How we review products
Great for the money!

A good concealer, I have a clarins concealer and this works just as well

Terrific

I switch around a lot on concealers and have not had much luck with oil-free ones but this one is a winner. It goes on smoothl and moist but not greasy and does not dry and crack in the lines & crinkles later. It also does what it is supposed to-covers lines and shadows. The 2nd lightest color was a little darker than I thought it would be so I adjusted to the ligher one-this is really my only complaint but I will continue to use this-good stuff!!

Great

Reduces acne! It doesn't clear completely, but I wouldn't expect it to. I also don't have to worry about it clogging my pores and giving me acne. Good buy.
Back
to top