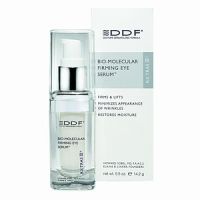 Editor's Rating & Review
The ingredient list may leave you itching for a lab coat, so we'll translate the science-speak: peptides, proteins and antioxidants are youth-ifyers for delicate eye skin. In our six-week test, DDF's pricey, lightweight serum made fair progress on dryness, but little impact on firming/lifting or wrinkles. We don't doubt the ingredients -- they'll slow signs of aging over time. But "increased intercellular communication" and "growth hormone" claims feel like misleading hype.
Reviewed by beth on 11/13/2007

How we review products
I saw results

If I had the money to spend to keep it up, than I would. That is really the only problem with this, that as soon as you stop so do the results.

ching ching ching?

Incredible, but expensive! But incredible. I could never get botox, so this is it for me. I'm young, and I figure if I use this for years to come, I'll never need a more serious procedure. Hope those eggs in that basket work out. In the meantime, the serum has a very good feeling - sinks in well. It's light but heavy duty at the same time, if that oxymoronic description makes any sense.

I got the serum fever!

And you know what the only cure for a fever like that is right?
Back
to top