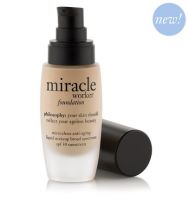 Philosophy Miracle Worker Miraculous Anti-Aging Liquid Makeup SPF 30
As low as
New favorite foundation!

I purchased this during Ulta's sale for $25 instead of the usual $40 and am so happy I did! I have been using a few different Philosophy products for a few years now and every time I try a new product in their line I fall in love again. I have never tried their makeup and since they had a promotion I figured why not. The first thing I love about this foundation is that it is part of the miracle...read more worker line which is an anti-aging line that I already love, and this is the same formula they use in this foundation. Also, it has an SPF 30 which is great as I wear this everyday and summer has finally came! I have not used a pump foundation in a long time and was super excited to see that this was a pump in a glass bottle-it makes it feel like more of a luxury foundation! The directions say to shake well, then gently pump to dispense product; I shake it than apply to the back of my hand and use my foundation brush to blot onto the areas of my face that I want to blend it out on. The first few times I squeezed two pumps and realized very quickly it was wayyy too much. Do one full pump and depending on how much coverage you want, that should be plenty for your entire face. I typically don't like full coverage foundations because my only skin concern is redness which can usually be covered by bb or cc creams but this stuff is great! It's a thick formula that feels so smooth going on and I always forget I even wear foundation because of how lightweight it feels. On the side of the box there are a few reasons of why I will love it; visibily takes up to 5 years off your complexion-agree. Helps to improve radiance and tone, even after you take it off**-I definitely agree with this because since I've been wearing this and than taking my makeup off at night, my skin looks beautiful without anything on! It's an all-day, natural-looking coverage*-agree, it hydrates and revitalizes skin-agree, helps reduce the appearance of fine lines, wrinkles and pores-agree especially with my pores, and weightless formula won't settle into fine lines-agree as it is so weightless and has such a smooth appearance on my skin. I adore this foundation as a full coverage foundation that feels like a bb or cc cream. I'm so glad I gave this a try, as soon as I run out I am going to pray there is another promotion on it and purchase it again!

LOVE LOVE!!

I bought this during Ulta's sale for $25.00 and I am so glad that I did!! I have horrible skin I have redness, scars, dark circles and once in a while acne. Now I have been blessed with dry patches. This has done wonders! I am curious to see how this will hold up in the Summer but for now I actually feel pretty with this make up. I don't feel like I am wearing a mask but it covers great. I still n...read moreeed concealer bit I have very dark circles. I wish they had a setting powder but I am sure it is in the works.