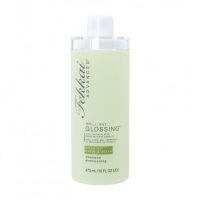 Fekkai Advanced Brilliant Glossing Shampoo
As low as
Give it a try!

Fekkai Advanced Brilliant Glossing Shampoo is suppose to let the radiant ritual begin with the luscious, luster-enhancing lather of Brilliant Glossing Shampoo, Fekkai's iconic shine shampoo. Its translucent formula cleanses hair with luster enhancing lather. You are suppose to Use your fingers to massage scalp for the ultimate, invigorating experience. Follow with Brilliant Glossing Conditioner. ...read moreYour hair is suppose to looks its most beautiful when it seems like the shine comes from within." I requested a sample of this shampoo to try it out and share my thoughts on this to help people who are unsure if they want to commit to it or not. The smell is very amazing to me and my best way to describe the smell would be a pretty floral scent that isn't to strong or to light smelling. The texture is very silky and when applied your hair instantly feels silky while you lather the shampoo threw your scalp. I felt it did not leave my hair squeaky feeling or leaving my hair feeling stripped of its natural oils. I would feel very comfortable committing to this product and purchasing the full sizes of this and continue to use. This product was hard to get a free sample of so if you do feel like you want to try it but are unsure, I would ask to see if first you can go to a beauty store like Sephora or Ulta to ask for a sample if they have it. I am unsure if they carry shampoos like this like they do with philosophy shampoos. If that doesn't seem to work I would try and look on Ebay to buy a couple of someone else free sample products that you could get for like 2 dollars where as if you go to buy the travel size bottles, each travel size bottle is about 8 to 10 bucks each. So those who got them for free and don't want to try it will most likely to try to sell them to you for a couple dollars because they got them for free.

great shampoo and conditioner

Sure it was a bit more pricey than the average shampoo, but I simply like to treat myself once in a while and splurge on a fancy product for my hair. I have long frizzy, almost curly hair. Firstly, the smell was fantastic. Just opening the bottle got me excited! The shampoo itself was nice and thick which was very different from my normal shampoo which is very runny. Truthfully, it felt luxurio...read moreus. After only one use I could see my hair was responding wonderfully! It was super shiny but not weighed down. What more can I ask for?? Anyway I got the bottle to last as long as possible because i loved it and plan on purchasing it again.
Back
to top