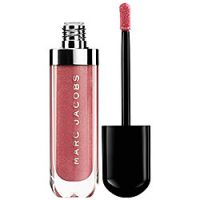 Marc Jacobs Beauty Lust For Lacquer Lip Vinyl
As low as
I WANTED to love it...

This gloss...it's pretty. The packaging is sleek and attractive. The shades are gorgeous--in the tube and on the lips. And, I mean, It's Marc Jacobs! I wanted to love it, I really did. And to a degree I still do, for all the reasons I just mentioned. However, there are some problems. Most of them stem from the fact that this gloss is REALLY runny. As in, I accidentally dripped some on my pants onc...read moree because I didn't get excess product wiped off the applicator before I pulled it away from the tube (this has never happened to me with a lip gloss before). Once it's applied it slides off lips FAST. It feels nice and feels like it's still there, but I have to reapply constantly to keep any color, especially when I'm drinking (which is always because I drink a lot of water). I also find this feathers pretty badly on me. It's hard to tell unless I look closely because the color isn't very saturated (it's not supposed to be--"sheer" is in the product name), but it's definitely there. I've obviously continued wearing this, but I can't in good conscience recommend it to anyone and I wouldn't buy it again. The shade I have is a sparkly raspberry color.

Defective applicator???

This is just like any normal sponge tip but for some reason I don't know if it's the product itself or the applicator but this lip gloss is so hard to layer. Every time I try to apply more product, the lip gloss seems to sink into the applicator and I'm left with a really thin layer of lip gloss on my lips. Might be good for those of you who don't want to overdo it. This has a slight minty sensati...read moreon to it but not too overpowering. I got this in the color Kissability and it's pretty sheer raspberry color with gold sparkles. It's not too sticky but not the most smoothest lip gloss either. The smell kind of reminds me of those gel playdoh-like thing I used to play with when I was a kid. It's not pleasant but not horrible either.
Back
to top