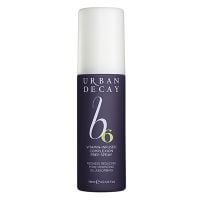 Urban Decay B6 Vitamin-Infused Complexion Prep Spray
As low as
AMAZING for oily skin like me!!!

I've heard great reviews on this on Ulta's website so I finally gave this a go when Ulta had 45% off Urban Decay for employees. Yay!!! I have super oily skin and NOTHING seems to keep my T-zone from getting oily so my foundation would move around throughout the day. This is a lifesaver! I followed the direction and used this under my moisturizer first. It instantly mattifies my face and leaves a t...read moreingly sensation. I knocked off one star for this because the spray nozzle on mine does not spray evenly so I don't know if I just got a bad nozzle. Will definitely switch it out if it keeps on doing this. I also find that this does take a while to set. I will fan my face until this sets before I apply my serum, moisturizer, and eye cream. This prolongs my foundation and keeps my oil at bay better than powder, primer, and any other product that claims to mattify. Forget all those steps. Just use this and you're good to go. Also use this as a touch-up throughout the day and your face will feel fresh and rejuvenated. I don't notice my pores getting smaller from what UD claims but I will continue to keep using it to see if I notice a difference since I've only used this for a week now. Great job Urban Decay!!! You have saved my oily skin from getting oily.

Really does the job!

This stuff really amazed me! I really needed something to control the oil around my t zone because any time I would put foundation on, the oil would seep through making it look blotchy. So an employee at ulta recommended this, and I'm so thankful! It really does what it says! I use as directed, I put this on before applying moisterizer and foundation, and it feels great on my skin. It makes my ...read moreskin feel so fresh and soft. It sprays evenly all over my face, and it will give a nice soft glow to my skin. Not only that but i have noticed my pores are smaller! Also this truly does control the oil. With this on, I no longer get oily around my t zone, and it really makes my foundation last longer. It is a bit pricey around 33 dollars, but since it work so well, it's worth it!
Back
to top