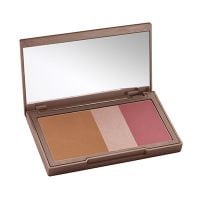 Naked Flushed
As low as
Expected more.....

When my friend and I swatched this in the store, we fell in love with it but I didn't buy mine at the time because I was hoping it would be on sale before I buy it. Thankfully Sephora put this on sale but in the color Native so I got it right away. The bronzer was kind of orange on my NC25 skin tone although it was super light and didn't have a lot of pigmentation like I expected. I didn't have a ...read moreproblem with blending it out. I thought the blush in here was pretty okay as far as pigmentation goes. The highlighter is too subtle for my taste. Even after layering it on, it hardly showed up on my skin. Neither of these products last long for me. I'm extremely surprised because everyone raves about Urban Decay. After applying this whole palette on my face, it lasted me only a couple of hours. It's a good thing I got this on sale but for $15 I will be returning this and get something else.

Underwhelming

I don't buy very many upscale products so I was super excited when Native went on sale for $15. I'm a bit disappointed. The bronzer is SO orangey. It still counts as brown but it looks really bad and I honestly don't know what skin tone it's supposed to be for? The highlighter is ok, it seems a bit too subtle for my taste. The blush is the saving grace of the palette for me; it's super pigmented and looks great on my warm-toned fair skin. Overall a disappointment, but it's passable.

Wow!

This is something that I don't know how I went without it! I'm still learning the application of it, but it does so much to change my look. I've got the "Native" version and the pink is VERY pink, but its also pretty, and I just blend it out a bit so its not as vibrant.
Back
to top