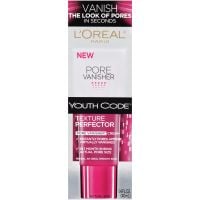 L'Oréal Youth Code Pore Vanisher
As low as
Don't expect a miracle worker.....

The claims on this is too good to be true. No product I have ever used have shrunken my pores. I think it's genetically impossible. However, I love the consistency of this. It's not too thick like the Miracle Blur or too watery either. It makes my skin feel silky smooth but does little to blur out my pores and fine lines. This is great as a base before applying foundation since it creates a smooth...read more canvas to work from. It's not greasy either. The price on this is expensive. I spent $25 on this but considering that it has more product than other drugstore primers, I think it's pretty decent.

Not Impressed :(

I have been using the NYX Pore Filler and the Maybelline Baby Skin Instant Pore Eraser, and both work well. I received a sample of this to review and was disappointed in comparison. First, the price is higher than I think it should be, especially for not being a product that "wow-ed" me. The product is flesh tone, similar to NYX Pore Filler in that regard, but applying it over my pores (mainly t-z...read moreone area) did very little to fill them in and smooth my skin. I liked that it didn't have a detectable fragrance, but the claims on the package that it will "shrink pore size in 1 month" is just fictitious and not true in the least. Similar to cellulite, there is no REAL way to shrink pores or erase them altogether. The key is prevention (AKA oil control as excessive oil is what causes the pores to expand in an effort to contain the oil), and unfortunately, I like so many others, I just have to deal as best as possible so I try looking for really good primers and foundations that won't settle into pores and keeping my pores refined and as clear as possible, and of course, removing that makeup every night! :)

My skin feels like silk!

Instantly makes my skin feel amazing. My pores look like they're not even there. I've been using this for about 2 weeks, so in another 2-3 weeks, this will hopefully earn a 10. I have large pores and oily skin. This Moisturizer tames both of those!
Back
to top