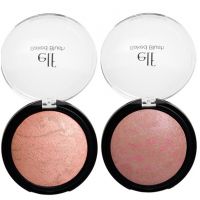 E.L.F. Baked Blush
As low as
A solid 8!

This is a fantastic budget brand baked blush. If you can splurge a few dollars more (well, 3X the amount, really) for a Milani blush (also available in drugstores) you WILL receive more pigment; however, this version is perfectly adequate. I purchased this in Peachy Cheeky, which is similar to the Milani Luminoso which is often compared to Nars ******. I haven't purchased the Nars blush that is so...read more infamous, but when I review the swatches, the ELF is much cooler, with more frost than the Milani; the Milani has more peach. Both are absolutely beautiful spring/summer colors, especially with a tan. This color is incredibly versatile though; I can see it working on fair color tones, medium and also tan, with different looks on each. I would highly recommend this blush. ELF can sometimes be underrated, but some of their products are just as good for 1/3 of the price. There's no need to spend more.

Great for a powdered highlighter

I have the lightest shade available in this product, and I like to use it as a powder highlighter when doing my contoured look. The only problem I have with it is the fact that it doesn't pick up well on the brush. I have to apply several coats of it to make it stand out at all.
Back
to top