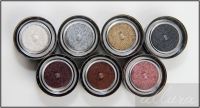 Studio Long-Lasting Lustrous Eyeshadow
As low as
Love these! Highly pigmented and very true to color!!!

These are amazing!!! I can never say enough about them… Very highly pigmented, very true to color, very easy to apply and can be a real life saver when you are in a rush. I'll say right away that if I were to come up with a down side for these then I would say that they cannot be blended to "perfection"… By "perfection" I mean that you wouldn't be able to create a beautiful, gra...read moredient smoky eye look with these, but you can definitely blend them enough if you just don't want to have any harsh lines. Other than that, they are virtually perfect in my opinion… So I got these in all the shades that ELF offers, and at first I fell in love with "confetti". I find it just a perfect color to lightly dab in the middle of your upper eye lid (no matter what else you have or don't have on)… It just opens up your eye and instantly makes you look 20% more awake… ;) And we all know that it wouldn't hurt to look a bit more rested… I don't know anyone who gets a proper amount of sleep every single night… Then, after watching reviews on other colors on YouTube, I really wanted to try out "party" because it looked so much like a dupe for "Chanel", and I ended up buying all of them. Love them! Consistency wise they are a bit unusual… ;) When you first touch them, they almost feel wet, but they are really not – they are just whipped and spongy. But you get used to this right away; it only feels strange the first couple of times you use them. They literally last me all day (which to me is about 14 hours)… At that point I usually take my makeup off, so they probably last longer if you need them to. I do have to say that I use all my eye shadows with a primer, so I don't know if they would perform the same way without one… But since they are called "long lasting" I would imagine that they do last a very decent amount of time even if you don't prime before applying them. If you are looking to get only one or two of these to start with, then I would recommend "toast" because it's a great stand-alone colour. If you are in a super rush, you can just put this color all over your top lid with some mascara and liner (or whatever else basic makeup you use) and you are good to go. And from the darker colors I would recommend "party" (black) or "gala" (brown)… They are all beautiful, but these are just really good basic colors.

Long lasting

My only complaint about these is that they can tend to make you look "sweaty" if you don't apply just right. However a little goes a long way. I like to just dab a small amount on my eyes to make them pop.
Back
to top