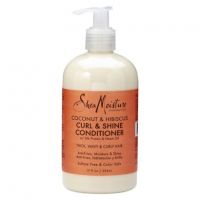 Shea Moisture Coconut and Hibiscus Curl and Shine Conditioner
As low as
Finally! Something great for my dry, curlyish hair!

I had been hearing good things about this company's products and their support for community causes, and also using Fair Trade shea butter. I am so glad I tried this! There are no parabens, no nasty sulfates in it. It is made with organic coconut oil, shea butter, jojoba seed oil, soybean oil, organic mango seed butter, Vitamin E and B5 panthenol, need seed oil and aloe leaf extract. This is a ...read morewonderfully smoothing, detangling conditioner for my hair. The label said it was made for thick, curly hair but it still worked great on my fine-ish curlyish hair. It didn't weigh it down and definitely smoothed down the flyaways and frizz. I have been looking forever for a shampoo and conditioner that really is an effective frizz fighter, and I finally found it for this awful Florida humidity. It smells nice and fruity, and it thankfully does not take forever to rinse out. Plus, I thought the price point was great, especially catching it on sale at Ulta and pairing it with the Ulta coupon. Natural luxury for my hair for a lot less than some of the fancier yet not as effective brands.

Meh

I honestly found the Curl and Shine Shampoo more moisturizing than the conditioner. I had to use an entire handful of this conditioner to cover my long/coarse/wavy hair. I like that it contains natural ingredients, but it just wasn't thick enough for my hair.

Does wonders for curly hair!

My DH uses this conditioner (along with the shampoo) and his coarse, curly hair really loves it. It makes his hair soft and shiny and frizz free. I use the SM Manuka Honey formula and one day my DH was out of his usual cheap stuff and he appropriated my SM and loved it. The rest, as they say, is history. He's now a regular SM user. This formula works better for his hair type, keeping his coar...read morese curly hair really supple. His hair is long and he wears it in a ponytail and it's sleek and soft. This shampoo and conditioner have so many great ingredients and they really do a very nice thing for his hair. We live in Florida where the humidity does nasty things to hair and his hair is frizz free when he uses the SM s/c and the styling milk. It keeps the silly flyaways from forming a halo around his head, lol! I love the SM Manuka Honey formula because it does wonderful things for my dry, color treated, wavy, extremely frizz prone hair. He has his favorite formula and I have mine. We each love our formula. I highly recommend SM products.
Back
to top