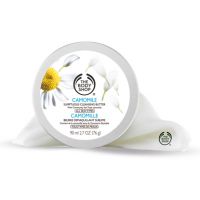 Definitely worth buying and re-buying!!

I went into my closest Body Shop and asked what they have that is best at removing make up and I was shown this product. I didn't want to buy straight up so was given a small sample to take home. As soon as I put it on it seemed to melt away my make up and I followed with using a warm, wet facial cloth to remove it. It instantly removed all traces of make up from my skin and felt soft and silky on...read more my sensitive skin. Has a light fragrance and leaves skin feeing soft, silky and clean! Love this product. Definitely going to continue using/buying.

Amazing product

This cleanser removes every bit of makeup on my face and leaves it feeling clean and smooth. I've tried every type of makeup remover imaginable, both before and after having tried this one, and I always go back to it. It is lightly scented and gentle on my sensitive skin. Definitely a must have!

Soft and smooth

I purchased this as a night time cleanser to remove makeup and moisturize. This is an amazing product. I used a dime - sized amount and massaged it into my face for about 2 minutes, making sure to massage my entire face. I am impressed by how little work I had to do to dissolve my eye makeup and how clean my face felt once I rinsed it all away! There is no tightness, dryness, or irritation eithe...read morer. The scent is very light and soft and not at all nauseating, and I am very sensitive to scent. I will need to give it more time to decide whether or not this will be my go - to makeup remover and cleanser as I need to gage it's performance on my skin over time, but for now I am definitely impressed.
Back
to top