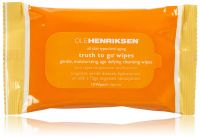 Ole Henriksen Truth To Go Vitamin C Wipes
As low as
A Ultra-Refreshing Way to Clean, Soft Skin!

Ole Henriksen's products grow nearer and dearer to my heart by the day. I never know what summer will bring or where it will take me, so I bought these wipes to clean my skin during a particular hot, gritty day or to use as an easy beginning to my nightly cleansing/moisturizing routine. You do receive thirty wipes for $15.00. They have a delightful citrus smell and are amazing to use. Even tho...read moreugh they are ultra-gentle, there is a gentle exfoliating quality which leaves your face and neck devoid of sebum, makeup, sand, chlorine residue, and deep-down dirt. They even make short work of removing waterproof mascara. You are left feeling completely refreshed, your skin soft and glowing. Henriksen includes his famous all-natural ingredients with benefits you do actually realize with continued use: Vitamin C brightens and tightens skin; micro algae firm skin and boost collagen production; green tea, an antioxidant, inhibits collagen breakdown; and COQ10 helps with skin repair and regeneration. Other ingredients include fruit oil, glycerin, pomegranate extract, grape fruit extract, chardonnay extract, grape and jojoba seed oils, squalane (a moisturizer), Vitamin E, and palm and black currant seed oils. So if you are wondering why your skin feels like velvet and you are luminous, now you know . . .

Vitamin-enriched wipes!

I liked using this! It makes my skin feels clean and soft. I highly recommend this!
Back
to top