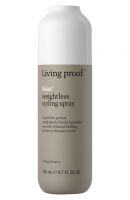 Living Proof 'No Frizz' Weightless Styling Spray
As low as
$36, but actually works!!

Ahhh I love this styling spray!! I have received a bunch of Living proof samples from Sephora and love them however upon looking up prices I felt like Living Proof products were out of my price range. A family member gave me a bunch of products that didn't work for her and this was one of them and I was super excited to try it!! The bottle has many claims-stops frizz. period. weightlessly blocks...read more humidity, smooths without buildup, no heavy silicones or oils. The main claims I was worried about was that it stops frizz and blocks humidity. So far this summer has been sticky and having spent part of it in Texas, I was praying this spray would work!! I haven't really blow dried my hair much this summer as I have wanted to grow it out and notice that the more heat I put on it the quicker it seems to start splitting. I had to work it in a low bun everyday for work so having it down and out of an elastic always feels great. However, after getting out of the shower and putting some mousse on it and scrunching it I spray my hair from ends to lightly on the root to keep the humidity from frizzing it up. The product is not sticky on my hair and does not cause it to be weighed down. When I do blow dry my hair and do or do not use a flat iron after I spray this all over my hair and flip my head and spray a bunch on the back side of my hair as well. It gives my hair body and versatility as I flip my hair from one side to the other throughout the day. I love this hairspray!! It is not a heavy formula, actually keeps the humidity from penetrating my hair, and keeps my hair styled all day. If I use a comb, brush, or back comb through my hair it brushes out no problem without feeling cakey or heavy from product. I'm super glad I didn't pay for this as it was given to me, but when I do run out (which will be soon) and I want to use this with the Living proof shampoo and conditioner I received, I will strongly consider purchasing this. The only downside of the price is I will go through it VERY quickly. I was given this spray about 3 weeks ago and have barely any left!

My favorite styling product ever!

This is my favorite styling product on the planet! It has great hold and completely eliminates frizz, even in Florida! I use a curling iron to create loose waves and this spray holds them all day and they don't droop even if it rains. It's so lightweight that I can't even feel it in my hair at all. It isn't sticky or stiff but it gives me body and bounce and nonstop shine. I've been using thi...read mores for several years and simply can't live without it. If I don't have several backups, I go into a panic. There's nothing else quite like it. It has no silicone yet control frizz like a champ. It's a miracle in a bottle. I definitely recommend it highly. It's a godsend for fine hair and for medium hair like mine, whether you blow dry, flatiron or use a curling iron like I do. Great stuff!!
Back
to top