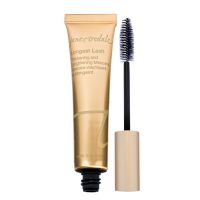 Jane Iredale Longest Lash Thickening and Lengthening Mascara
As low as
Did not like!

I got a sample tube of this in a beauty box. I have only tried a few Jane Iredale products but the public perception of the brand seems to be really good. First off, I like the tube that this mascara comes in. It is squeezable so if you are getting near the end of the mascara, you can use every last bit. Unfortunately, I do not plan to ever get to the end of this mascara. Application was OK, ...read morebut the formula didn't do much as far as lengthening and especially thickening for my lashes. It took several coats to get my lashes looking good. I would never describe this as thickening at all. It did nothing to make my lashes look more full. My big issue with this is mascara is that throughout the day it flaked like crazy. I put this on in the morning and was out and about the entire day. Each time I looked in the mirror I saw more flakes on my face from this darn mascara. It also made my lashes feel very brittle. Definitely not more thick! I do not plan on even using up the remainder of this sample because it was such a mess. Flaky mascara is a major deal breaker for me and for a mascara that doesn't even give excellent length and volume, it just isn't worth the trouble of using,

Very Thickening but not glossy :(

My experience with this is so-so for lengthening. I have been using this for about 3 months now and so I figured I could give a review now. I wanted to actually give it some time before sharing my thoughts on it with you. One coat does really apply a lot, it doesn't necessarily seem to get the ends. But, a quick swipe at the end of my lashes really helps them stands out with this product so itâ...read more€™s easy to make this a "lengthening" mascara. I think this is excellent for thickening. The formula is thicker I think and because the brush shape of it, this really helped my lashes look thick and stand out which I loved. If I did two coats of this, all I got to say is "WOW EFFECT" I'm ready to show everyone my lashes and go out to the store or something. I tend to make a mess with applying mascara a lot not knowing until I have already applied it. I get it on my upper lid and below my lower lashes all the time. Usually though when that happens to me a quick swipe of a wet q-tip or baby oil will often take care of my clumsy messes I make all the time but sometimes when I use a natural mascaras it will stain my fair skin. But Thankfully, I have not had a problem with this mascara. I think once my skin was very dry because I forgot to put on my eye cream and I had a little trouble, but all other times I've used this, it has literally been super easy to take off which honestly surprised me a lot because my other mascaras usually take a lot more effort so that is what I was expecting from this mascara. This is also excellent for going out with friends or date night because it really lasts forever it seems. The truth is it's not clumpy at all. It made my lashes thick, but it did not make them glossy. It has a thick formula that really coats lashes well. Because the bristles are so close together which is awesome, it really was easy to apply a lot in one coat. the brush has dense bristles that remind me of clinique's High Impact mascara. I really liked it for the fact it made my eye lashes super duper thickening but I wish it would make them more glossier like I said because I think that is a big factor too as well when finding a mascara to use. I don't want my eyelashes looking crapy or something. But with this it was not that big of deal because of how thickening it was which out weighed all the bad thank gosh. So Overall, I think it is a great mascara. It is conditioning and has a nice thick formula for dramatic lashes, if you wish . It cleans off well and lasts all day. Couldn't ask for more from a mascara !
Back
to top