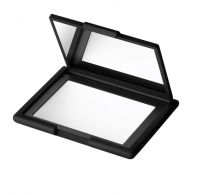 NARS Light Reflecting Pressed Powder
As low as
Keep Yourself Together

My oily skin and I love this pressed powder to set foundation while keeping skin from looking dull or overly sparkly. There is no noticeable smell to this product, which I've encountered in drugstore pressed powders designed to produce a matte finish. When I dust on the powder I get a subtle glow, a happy middle between obviously sparkly and flat matte. I'm sad that when I get down to the bottom o...read moref the pan there's powder that clings to the corners and refuses to be picked up by a brush, but it took a long while of daily use to get to that point.

Holy Bananas!

Oh my. This is good stuff. This is a product that dreams are made of (my dreams, anyways). It really does blur out imperfections, and give you a soft "airbrushed" type of finish. I once read a review that claimed it was "photoshop in a powder" or something to that effect, and I really do agree with that. Now, granted, I have not taken any photos with this powder on, so I am unsure of how thos...read moree photoshopping capabilities are translated onto film, however, IRL, it looks stunning. STUNNING. On the daily, I wear this over a tinted moisturizer (shout out to my girl Bobbi Brown!) and concealer and then apply blush and bronzer afterwards. I find that if I apply this Nars powder after any blush or bronze powdered products, it does tend to lighten them up a bit (good for if you apply too much on accident, though!). The BEST part of this product though, for me, is its OIL CONTROL. A surprising/amazing benefit of this product is that it does keep my oils at bay for a really good portion of the day (I say a good 5-6 hours). I don't think oil control is the main point of this product, but I'm telling you, miracle working. I have used the loose version of this powder as well, and while it looks and performs VERY similar on the face, the oil controlling is MUCH better with the pressed (as is usually the case). On me, this performed better (and looked way better doing it) than the MAC Blot Powder, which IMO is sub-par compared to this one. I do also use a plethora of other products to keep my oily skin under control, and even with using those other products, I can see a marked difference in this powder and the MAC Blot. Another added benefit that I saw was the extension of makeup wear. I really do think this helped my makeup stay on and stay put for pretty much all day, at least compared to the other powders I have used. Oily faces (and all faces, for that matter), REJOICE! A powder that does it all.
Back
to top