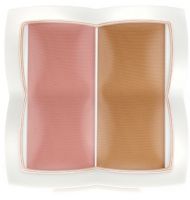 FLOWER Ready Set Glow! Blush/Bronzer Duo
As low as
Not too bad but not great either....

Love the concept of having a blush and bronzer in one. The only thing about this concept is that it's hard to get the brush to get one color without getting a little bit of the other color. This duo is not too powdery and pigmented and I find that after using this several times, the powders have sort of dried up to the point where it's hard for me to get some to transfer onto my brush. I have the ...read morecolor Gloriously Golden since I wanted more of a matte bronzer. The other colors have a sheen for the bronzer part but not this one. I like how the bronzer in this is not too orangey and it's not too dark. The blush color is sort of a Pepto Bismo pink and I was afraid the blush might be too chalky but once applied to my cheeks, I'm surprised it gives a nice natural pink flush without looking too chalky.

Great Duo Idea But Needs More Shades

I am reviewing the shade duo "Beachy Keen" (which I believe is the one in the pic above as it looks like it). A bit about me- very pale (meaning lily white), combination skin, 44 yrs old. The one thing that makes me crazy with bronzers is that there are so few of them that are light enough for the very palest of us...you know, the folks who REALLY need a bronzer! LOL Flower only had one duo (t...read morehey make 4 duo's- just FYI) that looked like it would work for me and that's the "beachy keen". The blush is a mostly peach toned shade with a hint of pink (very "nude" hint of pink). The bronzer seems to be "light neutral" toned with a hint of shimmer, just enough so its not flat on the skin. Both are fairly pigmented, at least for paperwhite skins, so you don't need a lot. I would say that this is Flower's version of the Nars blush/bronzer duo's. Thankfully, this bronzer is much lighter than Laguna, which is way too deep and yellow for my skin. I like this well enough although it could have better staying power, be a bit less "powdery" and they need more shade combo's that will work for the paler folk. All in all, a cool product for a decent price and I would buy it again.
Back
to top