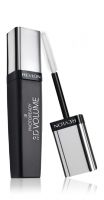 Had high hopes for this.....

Sad to say I"m still on the lookout for a good waterproof mascara. I wanted to try this after the article on here of the best drugstore mascaras. I still haven't found any good waterproof mascara yet because I find that waterproof formulas are super clumpy and this one unfortunately still lives up to the stereotype of clumpiness for me. This mascara does not thicken at all and I needed two coats f...read moreor it to show up on my lashes but by the time I have two coats on, it turns out super clumpy and spidery. My lashes doesn't lift up but strays in all different directions and leaves an ugly bent in my lashes. Will be returning this.

Really does add volume

This is a very good mascara. Adds great volume, stays in place and great price. Better than the higher end varieties and much better than other Revlon mascaras.

As long as you don't perspire...

Supposed to be waterproof. The day after wearing it on a warm day, I went to take it back; convinced I'd purchased a non-waterproof product. But it says on the package it's waterproof. It's NOT. Not by a far sight. Here in Central Texas, with an average 100% humidity ADD hyperhydrosis and a seriously intense romantic interlude, I looked like Tammy Faye Bakker on any Sunday in the '80s. This gets a huge thumbs down from me.
Back
to top