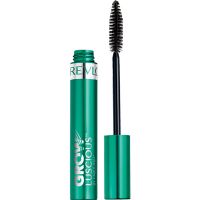 Revlon Grow Luscious Mascara
As low as
How do people wear this stuff?!

I purchased this mascara and couldn't be more disappointed by a Revlon product than I am with this stuff. Like the previous reviewer stated, the brush is insanely huge and difficult to work with. I was not happy with that, with the actual mascara formula, and the tube I got was more of a mousse like consistency. I just plain do not like this stuff. I didn't use it long enough to find out if it he...read morelps your lashes grow, but my guess is that most people won't be using it long enough to find out either because it's garbage. Revlon, back away from the mascara business. It's not your thing.

Awful Awful Awful

This wand is insanely huge and difficult to work with. The formula is so watery and wet that it gets absolutely everywhere and stings really badly if it gets in your eyes. Because it's so wet and the bristles on the brush are spaced quite widely apart it really clumped my lashes together. The heaviness of the mascara(as it went on thickly)weighed down my lashes absolutely destroying any semblance ...read moreof a curl I once had. And, it made my lashes really crispy and hard. It smells strongly of chemicals too. This just did not work at all for my lashes. I wanted it to too because it is supposed to be good for them and help to condition them as you wear it. This was not my experience. It was pretty pricey too. I wish this one had worked out. This was impossible to apply on my lower lashes. It is just so messy to apply. I hated this. Avoid at all costs.

crappy

no comment....... sometimes we should just get out money back , because wow.
Back
to top