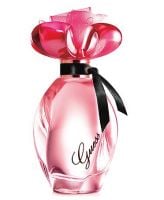 Guess Girl Eau de Toilette
As low as
An Absolute Gorgeous, Sheer, Natural Scent

My beloved, gorgeous mother used to have a smell which continually emanated from her although she rarely used any fragranced soap, shower gel, powder, or cologne. Her skin had a clean, fresh scent, something which made you want to get closer. She laughed at me and our entire family, as she didn't smell it herself, but it drew members of the family to her, and she was showered with kisses and hug...read mores in part to capture the unforgettable aroma. It still remains a great part of her beauty after her passing. Clean's "Bare Skin" somehow captures the warm yet oh-so-delicate essence of a woman's particular smell, of just-washed skin after one's chemistry comes into play. It is a gentle, gorgeous scent, with notes of lotus blossom, fresh air accord, dewy petals, aquatic notes, blue woods, musks, amber wood, and vanilla. It lasts a long time but fades away with beautiful demurity. This would be a perfect choice for a woman who doesn't want to smell like cologne, just an "enhanced" version of herself, of her skin on a warm summer day when the sun has played upon it and she has been out among fresh flowers and plants. I receive too many compliments on this to count--I absolutely love it!

Not strong enough

It smells really good I fell in love with it but it seems no matter how much you put on it's not strong enough. I've went through a 50 ml bottle 3 months, and that's way too quick for me to go through a bottle of perfume.

Love, Love, Love!

Great summery clean-sweet scent. I am very sensitive to perfume and I can wear this without a problem. I get a ton of compliments on it too!
Back
to top