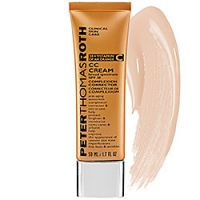 Peter Thomas Roth CC Cream Broad Spectrum SPF 30
As low as
CRUEL ANIMAL TESTING

LAST TIME I CHECKED THIS COMPANY DOES CRUEL ANIMAL TESTINGS SO "NO THANK YOU" !!!!!

best cc cream i've tried

there are many out there that would be either too oily, too dry, too light, too dark. basically, it was very hard for me to find the right combo- perfect color, perfect texture all around. this one did it for me.

CC Cream

I purchase this product for the days I don't want to wear foundation. It turned out, I use it now instead of foundation, I wear it daily. The skin looks flawless. It help hide fine lines and has great coverage for a CC cream, goes on smooth and your skin looks smooth after a few minutes. . I have tried almost every cc cream on the market and this is the best. I purchase one as a gift and the person has been very happy getting same results I did. They also gave up foundation.