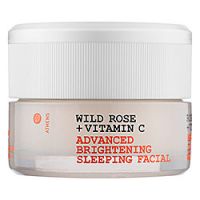 Korres Wild Rose + Vitamin C Advanced Brightening Sleeping Facial
As low as
Softens and Smooths But Doesn't Brighten

I like Korres products but am somewhat disappointed in their "Wild Rose and Vitamin C Advanced Brightening Sleeping Facial" ($48.00 at Sephora). Let's begin with the positive aspects: I wondered if sleeping in this cream would leave an oily residue on my skin and linens--not at all. Though it is replete in moisturizing ingredients like wild rose oil, rose water (for weightless hydration), imper...read moreata cylindrica root extract (a nutrient taken from grassy blades which flourish around the African coast and help skin absorb water), glycerin, jojoba seed oil, sunflower seed wax, and sodium hyaluronate, among many others, it smooths on easily and seeps well into skin. It is a substantive, medium-weight cream which immediately comforts. I particularly enjoy the scent of roses in this and all of Korres' products. After testing it extensively, I found that I awakened to consistently softer, smoother, more velvet-like skin, but there was no marked change in my complexion's brightness. Other products have been far more effective in getting ridding of discolorations and giving me a noticeable luminosity. Sorry to say that I didn't have that with this; perhaps there isn't enough Vitamin C to help with discoloration. If you are looking for a nice overnight moisturizer, this is for you. If you are expecting a major change, you won't find it with this.

Softens skin, but not brigthens

The smell of this cream is heavenly and it quickly absorbs in my skin. When I wake up, my skin feels soft and refreshed. I haven't noticed some brightening effects though. I highly recommend for anyone with dry skin.

Not As Good As Korres Greek Yoghurt Version

I've repurchased Korres Greek Yoghurt Advanced Nourishing Sleeping Facial multiple times. When I feel like my skin needs a treat this is my go to. The result is plump moisturized skin the following morning. There is a slight milky yoghurty kind of scent to it but it is so faint I don't notice it after a few minutes. So when I received a nice sized sample of Korres Wild Rose & Vitamin C Advanced...read more Brightening Sleeping Facial I was excited to try it. It was an immediate let down. The Wild Rose version did not melt into my skin in the same was the Greek Yoghurt version does. The scent, which might make a nice rose perfume, was too overpowering for a face product. The following morning my face did not have that same plump appearance as it does with the Greek Yoghurt version. I tried the Wild Rose version multiple times then gave up and stuck it back in the drawer. Recently, I pulled the Wild Rose sample tube back out and used it on my hands. Amazingly, I did see some results there so I ended up using the remainder of the tube on my hands. My conclusion is that these two sleeping facials from Korres are not just different scents but truly different formulations. I will continue to use the gentle Greek Yoghurt version but I will never be purchasing the Wild Rose Vitamin C version. My advice would be to get samples of both to try for yourself before diving into a full size pot.
Back
to top