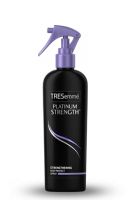 Good heat protectant.

I'm torn between this and the Thermal Creations Heat Tamer spray. Both are great, and make my hair manageable and silky, even though my hair is quite damaged and dry. Great for protecting against curling iron and straighteners.

Great for blow drying

I use this product in conjunction with Got2b Smooth Operator Lustre Lotion. It leaves my hair very soft, smooth, and with a healthy shine. I should add that I do not use it with my flat iron, I only use it when I'm blow drying my hair. I don't need to flat iron my hair often, and when I do I've already used this spray before while I was blow drying it, so for me it's not necessary to use it twice....read more That may be why another reviewer had an issue with it making her hair crunchy-because it was already dry. At any rate, as a blow dry protectant product this stuff is great. I use this product on the top layer of my hair and then flip my hair to get some of the underside, and then use the Got2b Lotion for all the hair. Together they are a magical combination for me :). The smell is nice and light, not chemically like some heat protectants I've used in the past.

My favorite heat protecting spray from Tresemme.

I've tried all of Tresemme's heat protecting sprays and this one is my favorite. They all feel the same in my hair but this one smells the best to me.
Back
to top