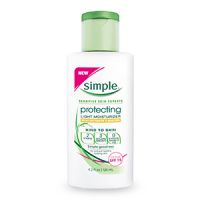 Meant for oily skin.......

If you have oily skin like me, this is the product for you but because this is a "light" moisturizer like what it states on the packaging I wouldn't recommend this for people with super dry skin. It left my skin moisturized without the greasiness and oiliness during the summer but when winter hits I have to replace this with a new moisturizer because it left the skin around my lips super flaky and...read more tight because it's not moisturizing enough. Other than that, I highly recommend for people with oily skin during the summer time.

Good, Just Wish It Was More Nourishing

I really like that this product has SPF but doesn't feel or smell like sunscreen. I like the consistency. I have drier skin, so I do wish it was tad more nourishing, but I will save this one because I love it more for makeup. I love to mix foundation with this. I have dry skin. so foundations can easily look cakey and awful on me. Plus, I prefer lighter, more even coverage, and then I use conceal...read moreer in areas that need more coverage. Mixing my foundations with this and a drop of radiant primer gives my skin coverage without looking like I am wearing any foundation. So I will finish the bottle for that use, and I think I will buy a more hydrating version from the same brand when I finish this bottle.

Great for oily skin

This moisturizer is very light and does not leave my skin feeling greasy. A little amount goes a long way. The price is very affordable which is a bonus.
Back
to top