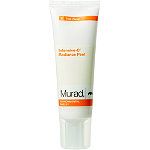 Murad Environmental Shield Intensive-C Radiance Peel
As low as
Murad's "Magic" Peel Works Wonders!

Wouldn't you like just ONE product to make a huge difference in the way your skin looks and feels? There are probably several out there, but I found one I can't rate highly enough (I wish I could give this more than ten stars here). Murad, one of the premiere brands when it comes to skin care, has created "Intensive-C® Radiance Peel." I would need a small notebook to list all of the ingredient...read mores, but they range from Glycolic Acid (a highly-touted AHA to accelerate the turnover of old, dead cells to remove dryness and improve texture) to Vitamin C and Indian Fig (which improve skin's clarity and luminosity and prevent damage from free radicals). Beeswax and Glycerin keep the formula gentle (I have to admit that I was a tad fearful of using a peel for the first time). Inositol, a nutrient which works closely with B Vitamins and has been shown to repair skin and treat eczema, is included in this product, along with Myrtle Extract, which supports collagen production and keeps skin resilient, elastic, taut. This is a peel for ALL SKIN TYPES, including sensitive skin. You cleanse your face, neck, and décolleté and massage a thin layer evenly over all. You will most likely feel a tingling sensation (I find it cool and enjoyable), but let it stay for at least ten minutes before rinsing with a warm wash cloth and gently patting skin dry. I was amazed at the difference! My skin was pink, but it was immediately more clear and much softer. With continued use, you will notice a distinct reduction in the size of pores, a decrease in any ruddiness you may have, and new radiance. Dry, uneven patches become extinct. I've been using this over the last year and can't count the number of times I've been asked what I've been doing to my face. So now I'm revealing my secret right here, just to you . . .

So incredible!

I've tried a few at home peels, and this one even beats the peels I get in the office. My skin is brighter and softer. Can you believe the price? So affordable!!!!! Love it!
Back
to top