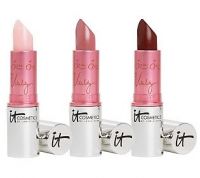 IT is Lip Perfection!

I admitted in an earlier blog that I am totally hooked on Tangee's "Color-Changing Lipstick" (a classic, available online from The Vermont Country Store). The silky-smooth formula protects my lips from hot and cold weather, provides a most becoming shade on my pout, often lasting longer than I do! There's a new and noteworthy product in town: It Cosmetics' "Vitality Flush 4-in-1 Anti-Aging Lip Sta...read morein." It is available in four hues, including my favorites: "Pretty Woman," a lovely, burnished pink and "Love Story," a soft, true rose. Also noteworthy is "Je Ne Sais Quoi," which provides just a hint of a very natural long-lasting tint. This gem won awards from "Total Beauty," "Daily Glow," and "Beauty Entertainment." Plum. Sunflower, and Cherry Oils, Shea Butter, and Jojoba hydrate and condition for hours; these are combined with the anti-oxidants Green Tea, White Tea, and Vitamins A, C, and E. Hyaluronic Acid, currently all-the-rage in moisurizing, is included to keep your lips buttery soft and glossy. How can you resist a stain which enhances and nourishes? You can't!

Perfect for lips

I bought a set of three of these: Je Ne Sais Quoi, Pretty Woman, and Love Story. Honestly? I love them. They feel so nice on. Slick but not sloppy, and not at all sticky. The gloss wears off after an hour or so, but the stain stays a long time. Yes, they do stain, but I think Love Story and Je Ne Sais Quoi stain to a pretty flush. Pretty Woman, though, stains really dark pink--OK for evening but a...read more tad loud for me for day. That said, these are not at all drying on me, and the stain does last most of the day. The more you apply, the deeper the stain and the longer it lasts. I am not going to knock it just because the color isn't perfect for me...it would work beautifully for someone darker than I or someone who rocks a bright lip.

love

love ,stays on well and very hydrating on ur lips.
Back
to top