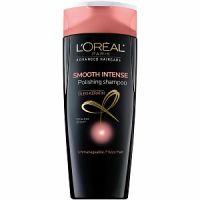 L'Oréal Paris Advanced Haircare Smooth Intense Polishing Shampoo
As low as
Biggest disappointment...

Since I do not even know when. :( My hair is thick and long with waves that undoubtedly lead me to a frizz battle just about every morning. When I use the right products, I am able to win the battle really well. I was super excited to have 72 hours of no frizz. Unfortunately, the shampoo left my hair dry, dull, limp and with tons of flyaways. My soft, shiny hair was truly transformed. I saw my mom...read more the next day and she said she had never seen my hair so dry and lackluster; I always color or bleach my hair and it has never looked so unhealthy after one wash. I used the same styling aids and just got a haircut 2 weeks ago. I deduced that it has to be the shampoo. It also had a strange smell and was clear, more like a clarifying shampoo would be. I hope my review helps and I hope it does not happen to you. :) On the plus side, the conditioner was great but even it could not counteract the dryness from the shampoo.

Mediocre Shampoo

I am Asian with very thick black hair and all I do to my hair is straightening it every other day (that's how often I wash my hair). If I don't my hair has too much volume and it's a mess. Overall I have pretty healthy hair. With that being said, this shampoo smells great and leaves my hair feeling smooth when I use it in the shower. However I can feel that it left a film over my hair and weighed ...read moremy hair down. Together with the conditioner they made my hair less frizzy and I didn't have to straighten my hair! I just dislike the fact that my hair doesn't feel as clean after I use this shampoo.

Hair Disaster

When I saw this new brand of shampoo I was so excited to see it was Keratin infused and was supposed to keep your hair frizz free for 72 hours. Well I wouldn't know if it keeps your hair frizz free for 72 hours because I can't go that long without washing it. My hair is so oily and greasy from using it. PLUS, I have more hair falling out in the shower and in the brush then I ever did before. It no...read morew falls out in bundles and I don't even have to touch it. I do not recommend this. The only good thing about this shampoo is the smell..
Back
to top