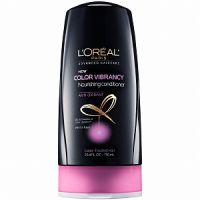 L'Oréal Paris Advanced Haircare Color Vibrancy Nourishing Conditione
As low as
Completely Let Me Down . . .

I am on a continual search for a shampoo and conditioner to help my (sigh--artificial) hair color last a long time. Gone are the days when I washed my hair daily (sometimes twice in the summer!). Even for robust, virgin locks, such treatment can damage the cuticle. I allow two to three days to pass between shampoos and wash gently, using lukewarm water and treating my tresses with the ultimate ...read morecare. I deep-condition regularly and condition after every shampoo, working through to the ends. I hate coloring my hair and want to postpone the need for this. I have spent hundreds of dollars on various conditioners--from the most pricey to drugstore brands--in search of the "perfect" one to soften, add luster, and keep my auburn hue locked in for a long time (however, Leonor Greyl products are still too hedonistic to try; I will not pay the obscene prices). Two months ago I purchased L'Oreal's new "Advanced Haircare Color Vibrancy Nourishing Conditioner" (about $5.00). I've been deluged with ads for their new system of products, and I scrutinized the container carefully. It claims to give you up to eight (count 'em) weeks of vivid color. I was impressed: It contains anti-oxidants and UV filters to protect hair from damaging rays. Arginine-K Complex is included to penetrate the hair fiber "from root to core to tip for healthier hair." It has a subtle, pleasant fragrance, albeit not much different from most shampoos. At first, I was in love. My hair can perform as a Brillo pad after shampooing, and this conditioner left it like silky strands between my fingers. Was this MY hair? It styled easily, with lots of swing and shine. That lasted a day. The next day, my hair felt as if a weight had been placed on it (there was an oily feeling). Gone was the volume. I was sadly and officially a "helmet head." I tried the shampoo and conditioner for a few weeks and noted no color protection. It was the same as with most products--back to hair color bottle for me! I'm sorry, L'Oreal, as I truly thought I'd love you. But you let me down, literally.

Did not like this product

I received a sample in the mail and used the product today, it made my hair full of static, left a film on my hair and it was frizzy. I colored my hair last week and some of the color came out, I am not a happy girl. I have used Paul Frieda products for a long time and love them.
Back
to top