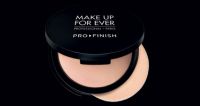 Make Up Forever Pro Finish
As low as
Love this powder!

This powder creates a flawless and finished look and I absolutely love it! I just bought it a couple days a go and love the way it provides just enough coverage so that your face doesn't look cake-y and ashy. I highly recommend it!

Makes me look naturally flawless

Lets get real, it is every girls dream to have the magazine cover flawless skin such as that of our favorite beauties. I swear to you, this can now be yours. No joke. I Love love love this powder. I don't even know where to begin. My friend introduced it to me around the time of my wedding when she would do my make up for the engagement pictures, etc. I have been hooked ever since. I'm not a perso...read moren that uses a ton of make up and before coming up this little number, I have literally worn powder maybe twice or three times just because I've always felt like my skin could not breathe. I felt suffocated by the coverage. This powder however, does no such thing. My skin still feels very breathable. Not only this, I also hated the residue that was left on the face after using powder. You can usually tell that you've got powder on. Although wheni first put some on my face, I thought this powder was no different, I looked about 2 minutes later into the mirror and the powder had settled into my skin and there was no trace of it left! Just amazing! What I love most about this is just that, you can't tell that you're wearing anything at all. It's so light weight and easy to apply. I now feel comfortable using this powder every time I got anywhere! I went from a no powder policy to an only powder policy and I have only one powder to thank for this, very needed change. I feel beautiful in this and I think anyone would feel the same in this awesome awesome product. The only down side I think is the price...it's about 50$ per compact but I believe that with makeup, many times, especially with powders and foundations, you get what you pay for. This the definitely worth the investment!