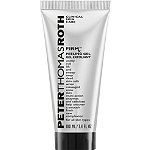 Perfectly Refreshed, Renewed, Velvety Skin!

Do you like second chances? Are you a big believer in new beginnings? I do and I am! I was taken aback entirely when I used Peter Thomas Roth's "FIRMx™ Peeling Gel," feeling like I have an entirely new, fresh, perfect complexion ($48.00 at Sephora). I have always loved this brand of skin care items, but I was in a "blue funk" recently and turned to a large sample of this (new products get m...read moree excited and tend to improve my mood). The active ingredients are the enzymes Pineapple, Pomegranate, and Keritanase, along with Sodium Hyaluronate and Glycerin. First, you simply cleanse your skin and pat dry. Apply a generous amount on dry skin and rub in easy circles, always being sure to avoid the very tender eye area. The formula is a semi-opaque, fragrance-free liquid with tiny particles in it. As you continue to gently swirl, you will notice very large "pieces" on your face--that is your dead skin itself, being exfoliated! Rinse thoroughly after use. Although my skin rarely breaks out, I do have some annoying, small, and constant blackheads which I battle. Some of the blackheads disappeared the very first time I used this product. The rest are diminishing with regular use, and I couldn't be happier. My skin has not been THIS SMOOTH AND VELVETY since my Baptism, to be sure! There is a new taut feel as well. Best results are achieved by using two to three times weekly, as it is not at all irritating (I will admit that I initially feared this peel of stripping my skin's oils and leaving it red and raw). If you want to experience more potent enzyme action, you can leave the potion on for an additional one to five minutes before rinsing. And you can also use it on hands, elbows, or any other areas where dry patches appear. I'M IN LOVE! This is a new addition to my routine, one I enjoy using greatly and which produces AMAZING results.

Doesnt seem to do anything

This peel simply peels itself and doesn't do anything for the skin IMO

Addictive and effective

I love this stuff! I've used it on places other than my face, such as a tattoo with lots of dry skin and an underarm that became inflamed and created layers on layers of dead skin to protect itself (used after the inflammation disappeared, of course). Every time I use it on my face, however, my skin always looks clearer and brighter and feels so smooth. I originally bought it for my husband so tha...read moret he would start using some better skin products and he noticed a difference when he used it in his shaving routine.
Back
to top