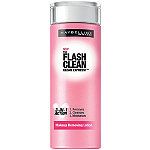 It's not often I rate something a 10 but

This deserves it! I have tried TON of eye makeup removers but this one is by far the best! After reading so much about not using the makeup removing wipes due to the the damaging effects it has on the eye area causing wrinkles I decided to give this a go and I am beyong impressed. It took off my "bulletproof" mascara so easily. And you cannot argue with the price point especially considering the tiny amount you have to use.

bittersweet

I'll start off by saying that I absolutely loved this product at first. It really is a multitasking product that removes makeup, cleanses and moisturizes. It even gets rid of waterproof mascara! And it does all of these wonderful things in a jiffy. After using this product for about two weeks, I developed an allergic reaction and needed to stop using it immediately due to the irritation, redness, ...read moreitchiness, and burning it caused on my eyelids. I do have a pretty sensitive eye area so this has happened in the past with other products. This product certainly does what it says it will but if you have a past of having allergic reactions towards eye makeup removers, etc. steer clear of this product! Youll save yourself a ton of discomfort. If Maybelline made this product hypoallergenic I would definitely give it another go.

Best makeup remover

This lotion works great! I use this every night and it removes all of my waterproof makeup as well as leaving my skin feeling great. The lotion is a nice alternative to that oily feeling most makeup removers have and it really does remove all eye makeup without irritating your eyes.
Back
to top