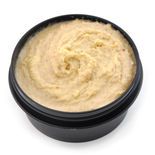 Lush Oatifix Fresh Face Mask
As low as
Winter Skin Savior

This is the third mask that I have tried from Lush. I am really beginning to think that there is a Lush face mask out there for everyone, no matter what kind of skin you have or what specific concern you want to target. The others I have tried and loved are the Mask of Magnaminty and Catastrophe Cosmetic. I picked up the Oatifix because it is now winter and I have been suffering from dry patche...read mores and some redness due to the weather change, a cold and seasonal allergies. Oatifix has bananas in it which are meant to moisturize and nourish the skin which is what drew me to it considering my current concerns. The ground oats help soothe red and/or irritated skin as well. Spreading this on your face is like sticking your head in a big bowl of banana bread batter...in a good way! It smells amazing, and not at all fake. This mask has ground up almonds in it for a light exfoliation. You don't need to leave this mask on for long, just 5 to 10 minutes and it is fairly easy to rinse off. The mask does not harden or tighten at all. I rinse this off with warm water using circular motions to get the exfoliation benefit from the ground almonds. Once I wash the mask off my skin feels super soft and nourished. I use a night cream afterwards, but I really don't feel like I even need one after using this. The dry patches and redness on my face were gone immediately after the first use, although they did return the next day. I have since used this two more times and the days following the second application, my dry patches stayed gone. So I think it takes a couple uses to get the full (and more long lasting) benefits. That is ok by me for Lush's Fresh Face Masks because they expire after two weeks so you need to use these frequently anyway. I have been using this two times a week but could even bump it to three. It is so gentle and nourishing that you don't have to worry about overusing this like you would with masks from other brands. I will now turn to Oatifix when the temperatures drop and my skin starts feeling dry and/or dehydrated. Another winning mask from Lush!

my favorite mask ever

I love this mask. I have occasionally dry skin, very sensitive. Nothing else does it for me like this mask does. Every time I use it, I spend the entire next day feeling pretty, because my skin is so totally moisturized.
Back
to top