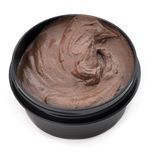 Lush Cupcake Fresh Face Mask
As low as
Great acne prone skin pick me up!

Whenever I feel like I need a pick me up for my skin or I feel like I will or am breaking out a lot- I use this! It calms my skin in so many ways, smells great, treats acne and leaves me feeling relaxed. It honestly works miracles on acne and oily skin! Helps tame oily skin over time!

Feels good, smells good, works well

This face mask is good for oily skin. If you love chocolate, I would recommend this mask. You have to refrigerate it, and it doesn't last as long as a regular bottled mask, but the coldness of the mask makes your face feel clean, refreshed and relaxed. It smells like mint and chocolate and it is pretty tempting to eat. I have never tasted it, and never plan to, but it smells like something you sho...read moreuld be eating rather than slabbing all over your face. And after you wash it off, it leaves your face feeling smooth and clean. It feels like a mask you would get at a spa and smells like something you would buy at a bakery; pretty good combination.
Back
to top