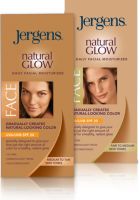 Jergens natural glow FACE Daily Facial Moisturizer SPF 20
As low as
Nice Color

Gives my face much needed hint of color. Not too dark, not too light, just right! Has SPF in it so my skin is protected and I don't have to add another step since it's already in there! Very nice. Doesn't break my skin out, very natural, pretty glow.

Nice color; low odor!

If you are not looking for sun protection, this is a good product. However, the sun protection lacks in this product which is why I had to give it a 6. The SPF is only 20 and the minimum on the face really should be 30. The next challenge with the SPF is that in order to get enough sun protection, you would have to apply TWICE the amount of product which would result in extremely ORANGE skin. As a...read more result, I add the amount that I need and use a separate SPF or apply at night. This product also does not offer broad spectrum protection; as per the package, it only helps to prevent sunburn and not to prevent skin cancer or skin aging. In a nutshell, this is great for the color, so maybe applying at night would be best; however, it is not a product that provides ample sun protection. I purchased this in the medium/tan and it is perfect. The product is also oil free yet rich in consistency. I would definitely give it a try.
Back
to top