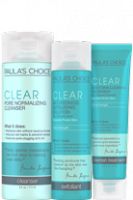 Paula's Choice CLEAR Extra Strength System
As low as
My self confidence is back!

I recently moved from dry California to humid Boston. My skin didn't like the move too much, and started breaking out terribly with cystic acne. It was so painful and embarrassing- the cysts were huge and painful even if I wasn't touching them. I've never really had an issue with acne like this before, so I didn't know what to do. I went online and found this brand. It's seriously life changing. W...read moreithin just a few days of using it I could tell the cysts were going down, and within a week my husband even commented on how nice my skin was looking (that's HUGE, because he's a typical guy and rarely notices stuff like that). I've been using it for about 2 months now. Not only did this stuff clear the acne up, but it also made my skin feel smoother and more radiant. My self-confidence is back and I'm so glad I found this brand. It's all amazing and I would recommend this to anyone with troublesome acne.

It cleared most of my acne

This kit cleared most of my acne. My skin is verrrryyyy sensitive. This one wasn't harsh at all and the exfoliator is just great. It fades the red marks left by acne and it's not harsh at all. I've always had a problem with benzoyl peroxide so I didn't apply the cream all over my face -I used it as a spot treatment and my skin didn't get red or flaky. Now I don't use this kit anymore, I started to...read more use the Skin Balancing products and I find them as good as this one . This kit is perfect for both teenagers and adults.
Back
to top