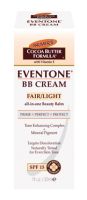 Palmers Cocoa Butter Formula Eventone BB Cream
As low as
Orange and Oily

Admittedly, I usually don't buy BB creams. But I wanted something light for outdoor sun protection that I didn't have to worry about streaking. The good news: this BB cream doesn't streak. The bad news: this BB cream leaves an orange, oily cast over your skin. I'm somewhat pale, so I bought in the "Fair/Light" tone. The product comes out much too dark for that shade, and also leaves an odd or...read moreange streakiness on the face. Additionally, the product is noticeably oily, even if you have dry skin. It's as if you dipped your fingers in olive oil and rubbed it all over your face. This was my first Palmer's product, and given its horrible performance, also my last.

Close to What a BB Cream Should Be

okay, I was very pleasantly surprised by this product. Most of the US BB creams are basically tinted moisturizers with maybe one or 2 skin care ingredients thrown in (and not in effective concentrations). This product is a skin care treatment cream with some coverage and color added, which is a nice change of pace. This product seems to be more close to what a true BB cream should be than any o...read moref the other US BB creams I've tried. It contains cocoa butter, soy, niacinamide, vitamin C and licorice extract. It moisturizes, reduces redness, plumps fine lines, evens the skin tone and reduces dark spots all while giving a sheer coverage to the skin to even out the tone and cover slight imperfections- you can layer it for more coverage in areas that need it. The color comes from mineral pigments and it also has an SPF 15. Now, all of that being said, my main issue and why I didn't give it a higher rating was that blending the product is challenging. It dries pretty quickly. I have very fair, sensitive, combination skin and I was very pleased with the overall effect of this product. I like a more sheer coverage so this works for me. It also hasn't irritated my skin either. The lightest shade is VERY light, although it matched me perfectly, and the next shade is very dark so some may have issues with skin color matching. Those with dry skins may find that they need additional moisture. For those who are very oily and had issues with BB creams over the summer, this maybe great for you for winter as it doesn't make me oilier in my T-zone.