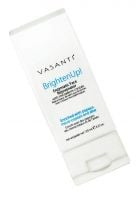 Use a Few Times Before Judging

I received a sample of this product and thought that even thought it felt and smelled good, it really didn't do much for my skin. I prematurely wrote this item off and thought that it didn't really work - very unimpressive. A few weeks later I ran out of my favorite scrub and decided to use up this sample in order to use it up. The sample lasted a bit under two weeks and wow, it really made a diff...read moreerence. If you follow the directions and use 2-3 times a week then your skin will actually appear brighter. The softer part comes right away because the scrub is a little bit harsh, but not anything horrible. Wait a few weeks before judging the brightness factor and you will be pleasantly surprised. The only reason that I took two stars off is because there are other lower priced items that do the same thing....maybe not better, but they do work. Still a great product and worth the price. Note: this isn't a "little goes a long way" type of item.

Smooth, Moisturized skin - Great for Sensitive skin :)

I used this scrub in my shower, completely not thinking it would live up to it's claims. It had an innocuous smell and a smooth texture until I put it on my face. The micro crystals were very sharp but not so painful I couldn't handle them. I scrubbed this stuff all over my face for about 30 seconds and then rinsed. Even in the shower, I could feel how smooth and soft my skin was. My skin has been...read more breaking out really badly lately, but this didn't irritate it like practically everything else. I was so excited! I am definitely going to buy this!

Works well

Literally will make your skin softer and smoother within two uses. It also smells really good!
Back
to top