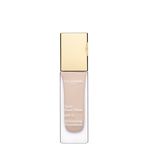 Lightweight skin-perfecting foundation

This has become my new go-to foundation. It provides solid coverage (it nicely masked a recent breakout), and though it's mattifying, I feel like my skin still looks like my skin -- it's not too matte or powdery and still has some luminosity. It's also got that nice cucumber-y Clarins scent. Into it.

Unlike anything you've ever tried

This may go down as your new holy grail foundation. It's superlight and dries immediately. It's got a great medium coverage, matte finish that looks like you're wearing nothing. And does it last -- and last, all day long. Seriously impressive.

Love this!

This foundation gives amazeballs coverage that lasts and lasts, and it leaves skin comfortably matte without looking cakey. It feels so lightweight as well!