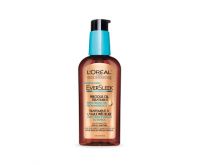 L'Oréal Paris EverSleek Sulfate-Free Smoothing System Precious Oil Treatment
As low as
Love!

This is the first hair oil I've ever tried. Typically I wouldnt buy these things because its such a small bottle for a 10$+ price. BUT I got it on the clearance rack at Walmart for only 3$ YES, THREEE DOLLARS. So I thought., hey why not try it. And I have to say, this stuff is amazing. Smells amazing, like cotton candy almost, though the scent fades away after an hour or so :( You only need around...read more a pump or two. I use one and a half pumps because I have long thick layered hair. Two is too much, and one isnt enough. Though I don't neccesarily see a cosmetic outer appearance difference, it made my hair a loooott softer. And i can tell it definetely moisterized my ends and hair and stuff.

Great Great Product!

I had been wanting to try Argan Oil for a really long time, and I just happened to see this product on my latest visit to Target. This product is a combination of Argan Oil, Sunflower Oil, and Olive Oil, and I figured I would give it try since all these oils sounded like they could be a good combo. And I am very pleased with the results!! This oil smells a little sweet like candy, but the scent do...read morees not last very long. I only use one pump on my medium/wavy hair after I have styled it or before I leave the house. (A little of this goes a long way, plus I don't want my hair to appear greasy.) This oil treatment left my hair feeling soft, shiny, and really helped tame my frizz! Of course there are always a few hairs that never seem to really stay down, but honestly I was very surprised with this product. It cost about $12, which is a fairly good deal since most hair oils can be quite expensive. I have gotten compliments on how shiny and healthy my hair looks with this oil treatments, so I will definitely keep using it!
Back
to top