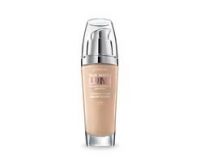 Nice Healthy Glow!

This foundation is pretty nice! It has buildable medium coverage and makes my normal to dry, dull skin look healthy and dewy. It also doesn't accentuate my blemishes. Some dewy foundations make my acne look even greasier, but this doesn't at all. Some days though, this foundation will awkwardly separate around my nose, but it doesn't do that all the time, which is very strange to me. To prevent th...read moreat, I mix this with a little Maybelline Fit Me and some primer. But, all in all it is a good dewy drugstore foundation. Just beware that this one can oxidize. It doesn't on me but my friend with very light tan skin bought this and it oxidized to a deep Oompa Loompa orange on her, so I would be prepared to need to mix this to cancel out oxidization. It worked nicely for me colorwise.

Loriel Foundation

I avoid it because I know about their cruel animal testing! I will NEVER use it again as long as they continue!

Under Appreciated

It seems to me like no one has good things to say about this product, but I beg to differ. This foundation has beautiful light, yet buildable coverage. It is a natural, dewey coverage, which is to be expected from a luminous foundation. I use this product over my Magic Lumi concealer. I blend out using a damp blending sponge and I get a long lasting, beautifully natural application. I do not understand how anyone has a negative word to say about this foundation.