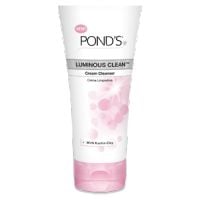 Pond's Luminous Clean Cream Cleanser
As low as
Love Pond's products!

I have used Pond's cream for years and I figured I'd buy this because it was in a pretty light pink tube and pink is my favorite color. I always wanted to try something new as far as cleanser and since this tube said "luminous," I figured it was hinting it would make my face glow. The actual cleanser is beautiful! It has a pearly look to it, is creamy on my fingers, and smells wonderful! I was...read more worried it would dry my skin out but after I washed my face and rinsed, I patted my skin dry and felt my skin and it was so soft! I used a dime sized amount and it cleaned my entire face and left it so soft! I have tried the entire Pond's pink new luminous line, including their new BB cream and I love it!!! At about $4.69 a pop, it's worth it. I have some in my bathroom right now, and when I run out, I'll be purchasing it again!!

My New Favorite Cleanser

This is another 10 star product for me. I am 44 yrs old with sensitive, combination skin- not only the balance of oiliness and dryness but also wrinkles and acne. I need a cleanser that will truly deep clean my skin but not over strip it or cause me irritation. This cleanser fits the bill perfectly! The clay draws out trapped dirt and the creamy consistency (not foaming but a creamy lather) ke...read moreeps my skin from being tight and dry. It also works great with my face brush and doesn't splatter all over the bathroom. I can see myself being able to use this all year round too, which is a nice bonus

perfect for sensitive skin

I bought this because I wanted to discover more products from the brand that makes the wonder cold cream, and I was not disappointed! It was cheap and had a lot of product. This line has an amazing smell! I don't have seriously sensitive skin, just a bit of rosacea along my jaw line. I saw slight improvement in my skin after using this in the morning and the scrub from this line at night. My face ...read morereduced in redness and looked pretty clear! The only problem I have with this cleanser is that it doesn't have anything that fights blemishes or blackheads. This is a wonderful cleanser for anyone with sensitive or dry skin as it is also very moisturizing. So glad I have discovered pond's!
Back
to top