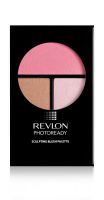 Revlon PhotoReady Sculpting Blush Palette
As low as
Not the best, but pretty decent

I don't normally use blush, but got this to experiment with contouring. The product comes with 3 little shades of blush- and I do mean little! Its impossible to actually use the tiny brush that actually comes with the palette. However, my giant blush brush covers all three colors at once. It's sized a bit more like an eyeshadow palette. Besides this obvious design flaw, I like the product itself....read more The darkest and lightest shades are perfect for a subtle hint of contouring, and enhancing my cheekbones. The middle shade (the largest) however, is useless. As other reviews on here mentioned, there is no pigment whatsoever, no matter what you do. This was only true for the middle shade though, which didn't really matter for me, because it was kind of an ugly color. (I have 003 Neutral). There's definitely room for improvement, but I've seen worse!

Uh boy...sigh.

I'm giving this two stars for two reasons. 1. This product made me appreciate my other products more. 2. It's the perfect size to stick under a wobbly table leg. Seriously though, I love many Revlon products, but this is just a waste of money. There is no pigmentation. Primer, no primer, doesn't matter. I used brushes, puffs, fingers, nothing. I even broke the dang powder because I couldn't believ...read moree that there was so little color...still close to nothing. So, unless I was the special winner of a bad batch, this product is a paperweight.
Back
to top