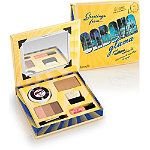 Benefit Cosmetics Greetings From Cabana Glama
As low as
Great Kit!

This is a fun kit loaded with products. It has "Some Kind of Gorgeous" in medium, which is a very nice foundation even on my paler skin. It has a bronzer, a small brush (which is actually too small), a triple eye shadow with peach and 2 shades of brown and Posietint. Posietint is a liquid blush that is very light. One thing you have to do is tap on the Posietint so you don't wipe it off. It comes in a nice box with a mirror, and perfect for your purse for touch ups.

I bought two!!

I was so excited to buy this kit because it seemed to be a better deal than the other kits that had the exactly same amount of products but this one was only $19. The rest of the kits were $32...I bought 2 :] The consistency of "Some kind of gorgeous" was thick and the medium tone of it was perfect for the dark spots under my eyes and on areas I want to cover up. I blended that with a concealer...read more brush and followed it by contouring under my cheekbones with the "Hoola." This is a great bronzer that looks natural and is great for olive/tan skin tones like mine. I than used the three eyeshadows like the cute little "how to" booklet said and I had a pretty natural eye great for any event or everyday. I was excited to try the Posietint because I've heard awesome things about it. I tapped it on my apples three times and quickly blended it in like the booklet said. Than I applied it to my lips and it created a beautiful pink lip all day. I am in loveeee with Posietint now and as soon as I run out of it am buying a full size :] The little bronzer brush was soft against my cheeks and applied the bronzer fairly well to it. Loveee this kit, definitely worth the price and great if you're new to Benefit cosmetics. I am slowly starting to see why they are such a goodselling brand!!

Awesome kit

Benefit does it again, with this amazing summer kit. It includes; some kinda gorgeous in medium, 3 eye shadows (pink, tan, and brown), Hoola bronzer, and a small posietint. Some Kinda Gorgeous is a cream-to-powder "foundation-faker." It has a smooth consistency, and blends onto the skin well. The medium tone works well with light-to medium skin tones. I love this product, and I mostly use it for a...read more concealer. The eye shadows are nice, they blend well, go on smooth, and don't fade. The also don't break up easily in the packaging. Hoola bronzer is a natural-looking bronzer with no shimmer. It works well with a wide range of skin tones, and blends into the skin like a dream. It also is smooth, and doesn't break easily. Poisetint is a gel lip and cheek stain. This (I feel) is a much better product than benetint. It has a bright pink color, and has a nail polish-like consistency. It blends into the skin nicely, but do it quick because it dries fast. It looks great on lips as well. This is an amazing kit!
Back
to top