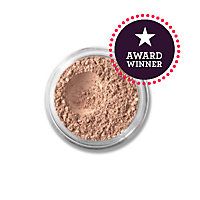 NOT FOR UNDER EYE CIRCLES

This cream mineral product is fine for covering up blemishes, scars, pimples and other flaws or imperfections. etc. However, there simply isn't enough color to cover under eye circles, the major feature I look for in a concealer. However, by applying it all over my face before foundation, it did even out my skin tone and provided a good blank slate for application of the rest of my makeup. I re...read morecommend it if you want that effect I described. But, if not, and you have dark under eye circles, don't purchase it.

best conceler i have found

I agree not great for under eye circles I actually use the combo conceler which has the lighter part to cover under my eyes but use this for everything else and as i have several veins that are clearly visible it is wonder how this covers and then blends to give me a beautiful complexion

Almost Perfect

This is a very light, super useful concealer. For most of the face, the application is flawless and covers reds and acne breakouts perfectly. It works rather well under the eyes, but it can gather caked in slight wrinkles. Less is more, is the idea, I suppose. I have yet to find a better concealer, so I will continue to use this for years.
Back
to top