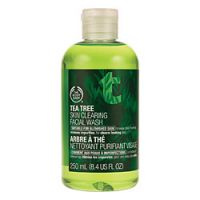 The Body Shop Tea Tree Clearing Facial Wash
As low as
Actually really liked this....

I've heard good things about this but the bottle is so small for $13 I didn't want to buy it. I was super stoked when I received a sample of this. This removed all of my makeup even the stubborn ones. My Mia 2 brush head was stained with makeup and when I used this with my Mia the stains on there were gone. That is how good this cleanser is. And I'm soooo surprised that with that kind of cleaning ...read morepower this did not leave my face feeling super parched or dry. The best part is this does not leave any residue and my face feels so smooth and clean afterwards. This does have a menthol minty smell and a little bit of a cooling sensation which I don't mind but the fumes can sting my sensitive eyes a bit which I docked off one star for. Other than that, I love this cleanser and my skin feels so rejuvenated and fresh.

Mmm my favourite

This is the best facial wash ever!!! It smell delicious and feels like heaven, its totally refreshing and wakes you up. It leaves you face fresh and completely clean, like you can feel the air on your face. It doesn't dry your face pr cause redness! Why it didn't score 10 is because it is to gentle to clear really bad acne so i recommend for light to moderate

The Body Shop Tea Tree Skin Clearing Facial Wash Review

I was very excited to try this facial wash. Of course, I always get excited when I think a product might get rid of any blemishes I have and prevent me from having to deal with blemishes in the future. Plus, I liked the fact that it contained tea tree oil. I used the Body Shop's Tea Tree Skin Clearing Facial Wash daily. I liked how clean it made my skin feel. So I was hopeful that because of h...read moreow clean my skin was with this cleanser that it would take care of any zits on my face. But, despite the impressive cleaning abilities of this wash, it had no impact on my blemishes. Unfortunately, my current blemishes didn't clear up any faster with this product and I still broke out even with continued use of this product.
Back
to top