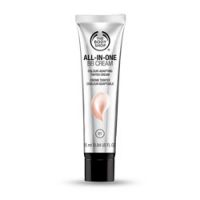 The Body Shop All-In-One BB Cream
As low as
Pretty good but needs SPF

I got this when The Body Shop was having a sale. The $20 price for such a little tube is a bit steep if I were to buy it without the sale. This cream is hydrating and gives my skin a very nice glow that is not greasy. It goes on white and creamy, but has these self-adjusting, magical color capsules that adjust to your skin tone. The 01 shade was perfect for me. It seemed to spread well and I only ...read moreneeded a small amount to apply. It made my skin look radiant and more even toned, definitely. I just wish that it had an SPF, like all the other BB creams that I have ever tried. I think if they put that in there, it may warrant the price tag a little more.

It's everything a BB cream shouldn't be.

I tried a sample of the Body Shop's and, well, ugh. I've had pleasant experiences with most BB creams I've tried (Origins, Estee Lauder, etc.) but this one is just disappointing. First of all, the Body Shop store manager was really pushing me to drop $22 on this small tube of product. After telling her for the 15th time 'I'm not spending that much on something I haven't tried, she gave me a ...read more'customized' sample. I'm a medium so she gave me the 2nd of the 3 available shades--which was a lot darker than my skin tone. Putting it on my face, I didn't like the consistency. It was really thick and hard to spread around my face. It wasn't smooth, but cakey. It was also heavy. I'm trying to throw in some positives, but I really can't really think of any. I tried to set it with some powder, but I guess it overpowered it and moved around my face, settling in fine lines. I know you're supposed to wear a primer to stop foundation from doing that, but I heard from a lot of people that BB creams don't have to be primed. The others ones I've tried certainly didn't have to be. I try not to be too negative in product reviews, but this one just really sucks. The rest of the sample is going in the trash. I love their matte bronzers though!