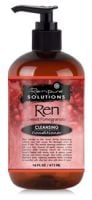 Simply Awful Product!

I would give this NO stars if there was an option to do so. This is NOT a dupe for Wen or even close to one. I have used several cleansing conditioners and this is by far the worst! It made my roots very, very greasy and my ends dry and it felt like it needed to be washed, even though I'd just gotten out of the shower. I couldn't wait to wash this out of my hair and its taken several weeks, an...read mored multiple products, to repair what this did to my hair. RUN, don't walk, away from this product! I returned it and wrote to the company.

Holy Grail

WoW! It has definitely earned 10 stars honestly! I would argue with anyone about this... It is perfect for long, fine, thinning hair that tangles. And it can also be used as a leave-in conditioner! It doesn't weigh your hair down pulling at your roots, eek! It smells fantastic - all the scents do...this is my favorite and then mint smells refreshing! I always buy 3-6 bottles at a time because my whole family uses it!

Renpure Solutions

I committed myself to using the whole bottle. First few washes I had the same results as Wen Cleansing Conditioner...a bit heavy, felt like I didn't rinse it out enough. But within a week my hair balanced out and started feeling and it brought out y natural wave. To which I began using Argon oil to sculpt and hold waves without using hairspray. I have long hair (5 inches beloe my shoulders) and f...read moreeel it's perked up and looks full of life, and I get compliments too. :). one 16 fl oz bottle has lasted almost 2 months. Good stuff...I look for it on the shelves...hooked.
Back
to top